New Year's Eve in Beirut
Hello lovely readers! I know it has been quite a while since I wrote the last blogpost. I apologize for keeping you waiting so long. Due to health problems I needed to take a short break from blogging, but no need to worry. I will catch up with the bogposts asap. Term 3 was without a doubt the busiest of terms at LPC. Amidst Extended Essays, Internal Assessments, tests, the regular homeworks and Quan Cais there were also University Applications waiting to be finished! Perks of being an IB student abroad - there is never a free minute and if there is one and if you are me, you end up attempting to record precious moments on your blog but instead of readable posts your wordpress fills with half finished drafts of 10 posts! So brace yourself for a very big update from me! :D
I was sitting in an airplane on my way from Beirut, Lebanon, to Amman, Jordan while writing this post. I had the wonderful chance to stay with Jessica (Slovakia/Lebanon) and her lovely family in Tripoli, Lebanon for a week. Without a doubt Lebanese-Slovakian hospitality is unbeatable. It was an unforgettable week filled with cultural explorations, Arabic lessions (I finally got to top up my Arabic vocabulary, hehe) and little adventures. There is more to tell than I could write in a blogpost (I am currently reconsidering the idea of writing a book), but I will attempt to give you a glimpse of my experience in the country of cedar trees:
Jessie lives about 85km from Beirut, the capital city of Lebanon in acity called Tripoli. In ancient times, it was the center of a Phoenician confederation which included Tyre, Sidon and Arados, hence the name Tripoli, meaning "triple city" in Greek. Tripoli has a quite unique charm, sometimes even reminding me of a painting. Its history, its religious diversity (you will see churches and mosques side by side) as well as the scars left by the war give it a very special aura. Street vendors, children playing on the road and lots of colorful motorbikes and old cars are framed by bulletholes and bombed buildings juxtaposing shiny new apartment complexes.
Jessie and her mom took me to one of the Souks in Tripoli, the gold and silver market. It was absolutely magical to look down this dark little street where the shops cast enough light for the jewellery hanging outside in curtains of gold and silver to glitter softly. We stopped by the famous "Khan Essaboun" The soap market, that stole my heart. All soaps were handmade, handcut and decorated according to an old recipe and technique and I was showered with gifts of aromatic & therapeutic, as well as decorated soaps, smelling like musk, amber and flower petals. Shukran!!
A day after my arrival it was already time to say "Hello!" to 2015! New Years Eve was absolutely lovely, klein aber fein, as we would say in Germany :D At first we wanted to go up to Lebanese mountains, however as transportation did not work out we decided to stay at home in Jessica's house and invited her friends over, having a lovely all girls night with lots of laughter and memories made. Of course, Jessie's dog was also part of our team! ;)
The next day passed with a lovely bit of exploration time by the Marina and a fantastic view over the ocean at a very stormy sunset.
Each day, Jessie's family had something wonderful panned and just when I thought there could not be a more wonderful surprise, there was! Shukran, shukran, shukran! One of my favorite places in Lebanon was and still is the Jeita Grotto, a massive cave system resembling cathedral-like vaults beneath the wooded hills of Mount Lebanon. It was absolutely magical and the history behind the discovery of this wonder of nature is just as fascinting.
In 1873 W.J. Maxwell and H.G. Huxley, engineers with the Beirut Water Company, and their friend Reverend Daniel Bliss, president of the Syrian Protestant College (later the American University of Beirut) explored these caverns. In two expeditions carried out in 1873 and 1874 they penetrated 1,060 meters into the grotto-principal source of the Nahr el-Kalb that supplies Beirut with water. They were finally stopped by "Hell's Rapids", where the river flows in torrents over razor sharp rocks. About 200 meters further on, in the so-called "Pantheon', they wrote their names and details of the expedition on paper, sealed it in a bottle and placed it on top of a stalagmite. The action of the lime- impregnated water has since covered the bottle with a thin white film, permanently fixing it to the stone. Since the 1940's, Lebanese explorers, notably the members of the Speleo-Club of Lebanon founded by the first Lebanese speleologist Lionel Ghorra, have pushed even deeper into the Jeita grotto. Their methodical exploration revealed the great underground system of the upper and lower galleries which is now known to a depth approaching 9 kilometers.
Jeita Grotto consists of Upper and Lower Galleries. The approach to these Upper Galleries through a 120-meter-long concrete tunnel does little to prepare you for the surprising world beyond. Formed several million years ago, the movement of water has left ist marks in this marvelous place. With every step I took inside the cave, winding my waythrough different levels of the caverns, I was contemplating the flowing stone draperies and formations that beared resemblance to almost anything you can imagin: elegant pillars, big boulders, fragile lookings draped curtains, all made out of minerals. In the distance I could hear the soft but reoccuring sound of drippinng water echoing through the stone halls. Perhaps the most dramatic sight were the yawning canyons and sink holes, some seen at a drop of over a hundred meters and leaving lots of space for imagination of the world below.
Even more breathtaking were the Lower Galleries, partially flooded by an underground river. Close your eyes. Now imagine that you feel the sensation of clean cold and fresh air filling your lungs. Imagine yourself in a little boat, surrounded by the roar of a waterfall that slowly gives way to profound silence as the boats starts to move softly and glide deeper into the cave. When you open you see nothing but the softly illuminated beauty of ancient stalagmites and stalagmites around you reflected perfectly on the calm water and sculptured by the greatest of the world's architects: water and time. If words would do justice to the magnificence of these natural formations, then that is how I would describe the Lower Galleries. I wish I could have stayed on the tiny little boat for longer and have more time to appreciate the raw and calming beauty of this place.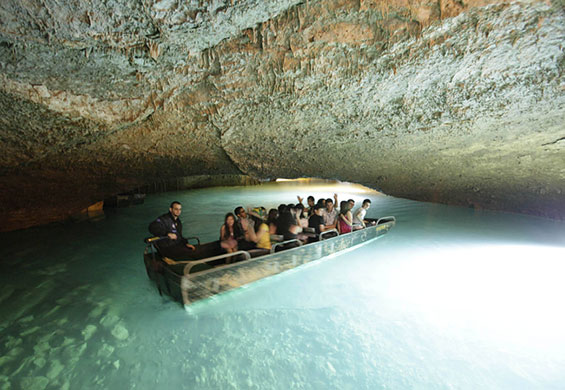 On the last day we went to Jbeil or by ist old name known as Byblos - it is an absolute heaven for history lovers! Byblos is believed to have been occupied first between 8800 and 7000 BC, and according to fragments attributed to the semi-legendary pre-Homeric Phoenician priest Sanchuniathon, it was built by Cronus as the first city in Phoenicia. It is one of the cities suggested as the oldest continuously inhabited city in the world and the site has been continuously inhabited since 5000 BC.
Byblos has the reputation of being one of the oldest city in the world, founded by Cronus. During the 3rd millennium BC, the first signs of a town can be observed, with the remains of well-built houses of uniform size. We walked around the ancient port which home to many seafood restaurants and admired the beautiful view of the ocean and lonely rocks that seemed to be staring in the distance.
Our exploration of Jbeil took us to the Ancient Phoenician Temples , the crusader castle and the medieval city wall. It was amazing to see how well preserved the old buildings were and with each step we took through the ancient structures we tried to imagine how it must have looked like during the time when cultures were flourishing here.
Jessica, Muhamad and Rebecca took me to a small museum and shop to see the beauty of the inhabitants of Jbeil who were there long before the Phoenicians and Byzantines: Jbeil as well as the neighbouring towns of Haquel, Hadjoula and Ennamura have gained international renown thanks to their quarries rich in wonderful marine fossils. The extraordinary state of conservation of these fossils found there was absolutely breathtaking. The museum and shop Memoir du Temps. Established as a family traditon and passed down from genertion to generation, i is the only one allowed to display and trade fossils and is responsible for conducting archeological expeditions in and around Jbeil. Their collection was beautiful, ranging from tiny fossils smaller than a nail all the way to fossilized giant rays and fish.
One of the "highlights" of my week in Lebanon (literally speaking) was our trip to the coastal city of Jounieh which is home to a very important pilgrimage site: a huge 15-ton bronze (and painted white) statue of Virgin Mary, known as Our Lady of Lebanon or Notre Dame du Liban, with her arms outstretched and a small chapel inside its base. Harrisa, as she is also referred to, thrones on top of a mountain and is reachable by a 9 minute gondola ride on the Télépherique. We went up to see her a night, with an ocean of lights glittering below us. The view over the bay was absolutely breathtaking and I wish my photos could have captured it the same way I perceived it.
The next day, Jessica's Grandmother, Taunt Mona, had prepared a wonderful lunch for us! The table was filled with delicious Lebanese dishes and treats ranging from Lahmacun (a meat topped flat dough), Hashish (no, not the drug! It is a word used for green vegetables)… She is an absolutely wonderful lady with a strong sense for fahsion and an obsolutely breathtakingly large collection of shoes.
Below are a few of my photos from our day trip to Beirut, the "Paris of the Middle East" and its unique "pidgeon rock", two huge rock formations, which stand like gigantic sentinels in the water.
Lovely Lebanon, you will not be forgotten, not the wonderful culture, the delicious food, beautiful scenery and hospitable people. A big "thank you" from the bottom of my heart to the Rifi family that welcomed me into their family like a daughter and showed me the beauty of Lebanon!